Start Creating the Miracle of Happy, Healthy Love in Your Life Today
---
No matter how persistent your painful patterns in love have been, you have the power to manifest ecstatically happy, healthy, wholehearted love!
It's easier than you think.
And I can show you how.
---
Click Here to Get Your Free Starter Kit Today
Welcome. I'm so glad you're here.
I know that you may feel discouraged, frustrated and more than a little confused as to why you're having such a hard time finding the right relationship—particularly after all that you've likely done to become a more conscious, caring and committed person. You might even be secretly worried that real, lasting love will never happen for you . . . as if it may just be your fate to be alone.
But what if I told you that you are—in this very moment—on the precipice of having a radical breakthrough to love?
I'm Katherine Woodward Thomas, MA, MFT, licensed psychotherapist and New York Times bestselling author of Calling In "The One."
I've had the honor and privilege of teaching many smart, successful, creative, bright and competent people—people who, like yourself, are conscious, caring individuals who have done impressive and meaningful things with their lives—yet who were initially confused as to why finding love had been so challenging for them.
That's because nearly all of them viewed their failed relationships (or lack of a relationship) as something completely outside of their control. They'd tried many things to improve their luck in love—dating sites, matchmakers, blind dates or singles events. They'd even tried not trying!
Pretending they no longer cared, secretly hoping that by letting go, love would somehow manage to find them.
Yet nothing worked.
That is, until they began to understand—through my trusted, 49-day Calling In "The One" process—how they, themselves, were unconsciously getting in their own way and covertly sabotaging their chances for success in love.
You see, most of the time when people are struggling to find love . . . there's a story (or stories) that we tell ourselves.
It goes something like, "Other people are lucky in love, but not me." Or, "Men always leave me." Or, "The kind of women I like just aren't interested in me."
We become attached to our story because we think it will protect us from getting hurt (again). And we end up feeling absolutely powerless to have our story go a different way.
If this sounds familiar, I want you to know, you're not alone.
---
Your Struggle to Find Love Is Not Your Fault,
And It Is Something You Have the Power to Change
Nearly all of the people I've worked with to successfully manifest deep happiness in love, at first, viewed their failed relationships (or lack of a relationship) as something completely outside of their control.
Once they learned to identify and release their internal baggage, blocks and barriers to love, they were amazed at how quickly and dramatically their love lives transformed.
I've been deeply moved by the extraordinary breakthroughs and heartwarming success stories of miracles I've witnessed over the years—often by those who had the least amount of faith this process would work for them. And I'd love for you to be a Calling In "The One" success story, too.
And if it seems like examining your "junk" and making these shifts might be scary or hard, I want you to know that it actually feels AMAZING because it's what finally liberates you from your story and allows you to move into a place of peace and absolute possibility in your life.
Start Manifesting Love Today 
With Your Free Calling In "The One" Starter Kit
---
"Working with Katherine has had a huge impact on my love life. Although I've been on a personal and spiritual growth path for many years . . . I was not realizing my true potentials in love until I began working with Katherine. She is truly a miracle worker and I now have a wonderful man who I 'called in' as a result of our empowering work."
—Prem Glidden, Certified Coach, Delray Beach, FL
---
"I have worked with many of the greats over the years, and Katherine is hands-down the absolute best teacher of healing and manifesting relationships that I have ever worked with. I am now happily partnered with a wonderful loving man and we are creating the life that we both want and deserve. I know, beyond a shadow of a doubt, that without Calling in The One I would not have had the clarity to manifest such great love in my life."
—Joan Bragar, Ed.D., Management Consultant, Coach and Teacher of Leadership, Author of Leading for Results: Five Practices to Use in Your Personal and Professional Life
---
"Katherine gave me unprecedented access to my own inner workings, providing the tools I needed to clear seemingly unmovable obstacles from my path and showed me how to draw my wonderful husband into my life, as if by magic. She embodies that rare combination of competence, compassion and deep insight that can actually cause things to happen in other people's lives. She is a true master and I am inspired by her very presence."
—Deborah Hurwitz, Composer and Broadway Musical Director, New York and Los Angeles
---
"Katherine Woodward Thomas is a master teacher, who inspired and guided me to see myself as worthy of love. Her work forges conventional and 'next-age' thinking into principles and paradigms of high integrity and power. I shall always be grateful to her for opening the door to my greater-yet-to-be… in relationship, in service and in life."
 —Ester Nicholson, Bestselling Author of Soul Recovery: 12 Keys to Healing Addiction
To now get you started on your journey to deep happiness in love, I've created the Calling In "The One" Starter Kit. It's completely free, and you can start using it today.
Start Manifesting Deep Happiness in Love Today With Your Free Calling In "The One" Starter Kit
---
This simple Starter Kit will support you as you begin to see how your disappointing patterns in love have been happening through you rather than just to you—and also begin to awaken your power to create an unprecedented future of happiness in love.
It includes:
My 75-minute audio seminar

–

4 Keys to Release Your Baggage, Blocks and Barriers to Love & Consciously "Call In" Your Soul Partner

Excerpts from the National Bestselling book, Calling in "The One"

– which includes Week One, Lessons 1-7 of the 49-day process

A Calling in "The One" Visioning Meditation

that you can work with daily to help clarify your desires and make you magnetic to their fulfillment.

A podcast interview

– where I explain exactly how to start shifting your core "love identity" beliefs and awaken your power to radically transform your love life for the better.
Simply fill in the simple form on this page. Then watch your inbox for your Calling In "The One" Starter Kit, which will be sent immediately.
To your happiness in love,
The World's Top Thought Leaders Share
Their Gratitude for My Work
"Katherine Woodward Thomas discovered a portal to love and beckons us all to follow her lead."
—Marianne Williamson, #1 New York Times bestselling author,
spiritual teacher, and world-renowned lecturer
---
"Katherine's grounded and fierce tenderness has been an inspiring force for me for years. She is a visionary whose passion for both personal and global fulfillment is felt throughout her writing, presence and teachings. I am so grateful for her."
—Alanis Morissette, multiple-time Grammy winning singer/songwriter
---
"Katherine Woodward Thomas is a master teacher and one of the great pioneers who is offering new perspectives, skills and tools that will lead us into the depths of authentic loving, and to the true potency and power of relationship."
—Dr. Jean Houston, prolific writer and author of 27 books including A Mythic Life: Learning to Live Our Greater Story and The Wizard of Us: Transformational Lessons From Oz
---
"Katherine is my relationship guru. Her wisdom and guidance helped me clear all blocks to romantic freedom."
—Gabrielle Bernstein, New York Times bestselling author of Miracles Now
---
---
---
About Katherine Woodward Thomas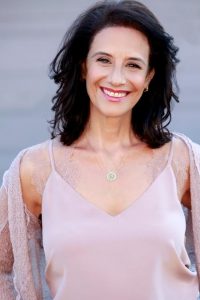 Katherine Woodward Thomas, M.A., MFT, is the author of the New York Times Bestseller Conscious Uncoupling: 5 Steps to Living Happily Even After and the national bestseller, Calling in "The One:" 7 Weeks to Attract the Love of Your Life, a licensed marriage and family therapist, and teacher to hundreds of thousands of people from all corners of the globe in her virtual learning communities.
She is the creator of the Calling in "The One": 49 Days to Love online course, the originator of the Conscious Uncoupling process and creator of the Conscious Uncoupling online course and certified coaches training. To date, Katherine has trained and certified hundreds of coaches in her highly transformative work.
Katherine has appeared on The Today Show, the Mike & Juliet Show and Good Day L.A., and her work has been featured in the New York Times, The Los Angeles Times, The Washington Post, The London Times, Time Magazine, The Wall Street Journal, People magazine, Women's Health and many other media outlets throughout the world.
---
"Your past does not determine your future in love — you do."
—Katherine Woodward Thomas